Hand made pipes from central North Carolina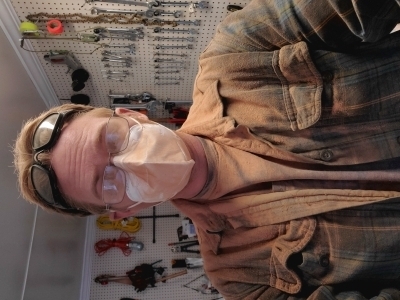 I started making pipes like I started most of my hobbies - completely on a whim and with no idea what I was doing.
My first pipes were made with a Dremel tool using pre drilled blocks of briar from Vermont Freehand. They weren't much to look at but the friends I gave them to enjoyed them.
I currently use a combination of belt sanders and a spindle sander for rough shaping the stummel. Final shaping is done by hand with 60 grit sandpaper, a variety of hand files and, yes, a Dremel tool. The pipes are then sanded to 10,000 grit and stained using Fiebing's Leather Dye. After that, I hit them with a buffing wheel using a progression of Tripoli Red, White Diamond, and Carnauba Wax.
Two of the most useful resources I've found are the Pipemaking subreddit and Pipemaker's Forum. Additionally, Pipedia is a great source for general pipe knowledge.
If this is your first time smoking a pipe, I have prepared a short guide for the new smoker. For more detailed information, check out A Pipeman's Handbook.
I occasionally have pipes available for purchase. I accept payment via PayPal. Just select the pipe number from the drop down menu and hit send. I ship priority mail, flat rate box.
Sorry, I don't have any pipes available right now. Please check back later!
Pipe 01
Pipe 02
Pipe 03
Pipe 04
Pipe 05
Pipe 06
Pipe 07
Pipe 08
Pipe 09
Pipe 10
Pipe 11
Pipe 12
Pipe 13
Pipe 14
Pipe 15
Pipe 16
Pipe 17
Pipe 18
Pipe 19